I had to run this posting one more time because I want the three women responsible for this great Stay Strong and Mahj On event to know about some of the comments that came in after I posted information on their successful fundraiser. Not all of the comments have gone to the blog – many of them came directly to me at my email address and they all were filled with raves and thanks and love. However, I was particularly taken by the comments from Gladys Grad who, in the middle of her very busy life was able to take the time to comment so graciously on SSAMO ("What a wonderful and inspiring event. We wish you much success and lots of strength to keep on keeping-on. Please let us know if we can do anything to help you with future events. Sincerely, Gladys Grad Mah Jongg Madness and Mah Jongg Master Points.") And I was also delighted to see a comment from Joanne Harris who has a shop – Mahjongg Ladies – on Etsy and has so generously offered to donate something for the next SSAMO event ("Hi Ladies, and congratulations on your First Annual Mahj On to support Cancer Wellness Center! Please let me know when your next event will be held, and I'll be glad to donate something, from my Etsy shop, for the auction or raffle portion of the day. MahjonggLadies on Etsy Joanne Harris.")
You can see these heartwarming comments and others if you go back to yesterday's posting.
All this proves what I always say: Mah Jongg people are the nicest people.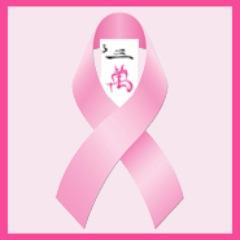 This is the clever and wonderful logo from the three young women who have founded Stay Strong and Mahj On. These three women met as interns and developed a strong friendship. Little did they know when they first met that all three of their mothers would face a cancer diagnosis. Alexis Miller, Jordyn Fishman, and Moriah Berry were inspired by their mothers' strength and courage; they put together a very successful fundraiser last weekend benefitting the nonprofit Cancer Wellness Center in Northbrook, Illinois, a suburb of Chicago.
Alexis, Jordyn, and Moriah have told me that they plan to make this an annual event – kudos to them for turning a difficult situation into something very positive. 
Enjoy these photos from the First Annual Stay Strong and Mahj On Fundraiser…